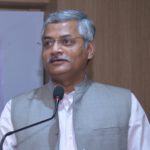 Dr. P.V.S. Shastry
Secretary
The mission of Maharshi Karve Stree Shikshan Samstha is "Empowerment of Women" through education. Last 120 years Samstha is engaged in educational and social activities in Maharashtra to achieve its objectives. In the era of globalization, students are required to acquire computer knowledge, scientific education to progress themselves in particular and society at a large.
With the generous support of Joshi Foundation, Samstha could establish the K.B.Joshi Institute of Information Technology in the year 2002. I am glad to mention here that from the last 10 years K.B. Joshi Institute has achieved a remarkable progress.
Our policy is to polish our students with new trends, as it becomes easy for them to accommodate themselves anywhere in the industries in the globalize world. We have always aspired to keep our students requirements at the top of our agenda irrespective of all the constraints.
I am confident, that with the support of our efficient strong, well qualified and dedicated professors and an efficient administrative backing this institute will reach to the new heights and will become a tool for the all round development of the students.
I wish great success to K.B. Joshi Institute of Information Technology.